1. Spacemonger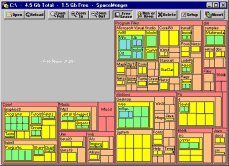 Spacemonger is a brilliant idea, it spends a short amount of time indexing your hard drive and then displays all of the files and folders inside it correctly nested. The size they take up on your screen is proportional to the size they take up on your disk. This means that huge files hiding deep in a distant directory are very visible and tiny text files in the C: drive are less so. But you can zoom in to see everying. It's invaluable for clearing up your disk, immediately giving you a sense of scale.
Official Site
---
2. TweakUI
This is probably the best known of the Microsoft PowerTools, but some of its features are still horribly under-used. If whenever you turn on your computer you type in a username and password and you don't want to have to then the autologin feature shown on the right is perfect for you. There are hundreds of other features many very useful: repair shortcuts, make My Computer first icon, adjust the places bar to your favourite folders and add a PHP file to the templates which appear when you right-click and go to 'New'.
---
3. foobar2000
A really lightweight music player with a number of great features and good extensibility, foobar does take some getting used to after iTunes and Media Player. But the performance savings are wonderful and the lack of graphic design is actually rather refreshing. Once you've got used to the interface and installed some nice extensions you should find it a pretty effective music player with good playlist support and compatible with most formats.
Official Site
---
4. WinGREP
WinGrep is an extraordinarily time saving tool, you give it a search word (or regular expression) and it trawls through specified directories searching for it (within files), then displays the results in an easy way. useful both for programmers and normal people!!
5. VLC
Do not be confused by VLC's complicated name (Video LAN Client) it's simply a small, low-resource and simple media player that will play virtually anything you throw at it. Even if there are bugs and it always freezes at a certain point in other players, VLC always seems able to manage to continue playing, well worth having whether or not you use it as your main video (or audio) player.
Official Site